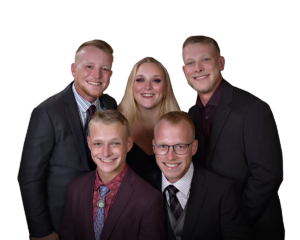 The Bowles Family 
Our family has a long history that was built on a foundation of strength and everlasting bond of dedication and endurance. The Bowles family is a very close knit family who values their work and aspirations. Bowles Services was built on their family bond and working together at home and in business together. 
Marty- Father to 5 children and husband of 30 years to wife Shayla. US ARMY, Veteran. New York, Nyack College in 1991. Pennsylvania, Lehigh Business School in 2005. With vast management and life experience, molded his family to work hard and achieve their goals.
The Family:
Abigail "Abby"Clerical assistant for the company with bookkeeping, phone calls and provides house cleaning for Bowles Services. Full-time restaurant management in Ocala.
Born – FT Stewart, Georgia. Married to Trenton Callery, Lawn care team leader and landscaper with Bowles Services.
Matt – Lawn Care manager & business partner – maintenance.
Born – Fairbanks, Alaska
Mike – Lawn Care & landscaping assistant manager, field supervisor.
Born – Fairbanks, Alaska
Alexander "AJ" –Lawn care team leader, customer service, quality control and performs all daily tasks.
Born – Hinesville, Georgia
Elijah –Customer service and quality control, performs all daily tasks. Barbizon Graduate – 2017 Model and Actor, signed with Modern Muse Agency, Orlando.
Born- Palmerton, Pennsylvania
How Bowles Services LLC started:
As a growing family and the values taught to the all the children, the twins Mike & Matt, while attending high school, decided to make extra money to help the family by mowing lawns. With their dedication and eagerness, they knew it was something they loved to do and they were good at it. They had a knack and their dad taught them well. The landscaping business kicked off in 2011, so Marty decided to make it an official business. The first concept and company name was 3M Landscaping, for Marty, Mike and Matt. They did all they can to earn money and continually gain respect from their clients. They began various types of lawn care, landscaping, and handyman work. Abigail started cleaning houses to help the family business and the administrative work for the company. They knew that with hard work and dedication, they could build a professional foundation for their family business. In 2015, they decided to change their name to Bowles Services, specializing in lawn care, landscaping, and indoor house cleaning.
Since they started Bowles Services, the family has gained great respect and their business has grown immensely, mostly due to the dedication to their customers and making each one of them part of the Bowles Family.